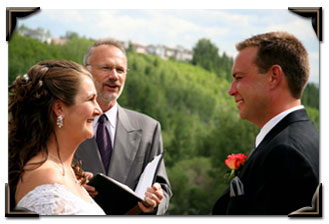 • You want everything to be perfect on your wedding day — and that includes
finding a competent and friendly Alberta wedding officiant to perform your marriage.
• Whether you want a traditional wedding with tuxedos, bridal party, and a minister in robes or suit; or a very casual and informal wedding, in any location of your choice; your marriage ceremony can be everything you hoped for.
• If you are looking for a warm-hearted and experienced wedding officiant to preside over
your vows, I can help you create a ceremony that expresses your own personal style.
• Registered by the government to perform Alberta weddings, I am able to
officiate at your marriage, whether it's held indoors or outdoors, and will honour
your religious affiliation or spirituality.
• Trained as both a minister and a college teacher, I bring a professional sensitivity
and creativity to each marriage ceremony.
• Comfortable in every kind of setting, I have performed many Calgary weddings
and in the Rocky Mountains I have performed many Kananaskis and Banff weddings.
• Wherever you want to get married — hotel, country club, mountain meadow, or
church — I can help create your wedding vows, and officiate at your marriage ceremony.
Please contact me for more information.
Banff Weddings | Calgary Weddings | Wedding Officiant | Alberta Weddings