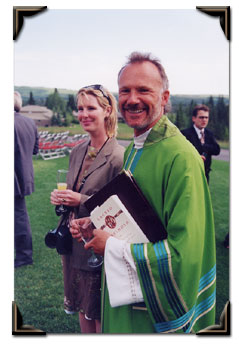 Rev. Klaus Ohlhoff, Wedding Officiant
MA, MDiv, STM (Yale)
Phone: 403.269-2940 (residence)
403.560-6740 (cell)
Email: klausohlhoff@shaw.ca

The rates for my services are comparable to that of other Alberta wedding ministers and marriage commissioners in Calgary and Banff, and are by recommended donation rather than by contract.
Feel free to contact me either by telephone or email if you have any questions. Together, we'll make sure your wedding service is as perfect as can be.
All the best as you plan this wonderful day in your life together.
Alberta Wedding Minister | Calgary Wedding Minister | Banff Wedding Minister