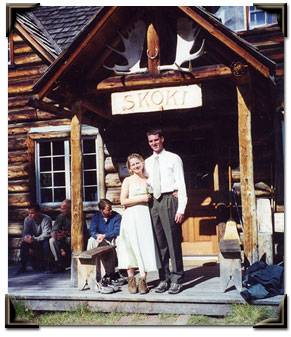 Not everyone wants to be married in a church or in an upscale hotel, and there are many other beautiful locations to choose from. You might like to be married in formal attire, but in an informal or back-country setting. Or you might be opting for the most informal dress and ceremony, in some beautiful outdoor or indoor location. Or you may even choose to have an adventure wedding to really make your wedding unique! As a casual Banff wedding minter I've compiled a few notes about casual weddings:
• It's your wedding, so you can create it according to your own vision, and the ceremony can be modified to match your location and spirit.
• You can write your own ceremony, find one in a book or on the Internet, or consult with me to create something that includes just the amount of spirituality, religion, poetry, romance, formality or informality that you wish.
• You can get married in tuxedo and gown, hiking boots and shorts, or casual pants and borrowed dress!
• You can have me wear whatever clothing seems most natural for your location, and I've worn everything from shorts and sandals, to suit and tie, to clergy robes and collar. (And yes, traditional religious robes can actually work quite well in the non-traditional setting, both indoors and outdoors!)
• For location, you can get married in a hotel, restaurant, golf course, living room, back yard, mountain side, river bank, or stunning location with a magnificent picture-postcard view. If you can imagine it, we can make it happen!
• In terms of numbers, I've performed casual weddings anywhere in size from a dozen participants to over a hundred, and they all work. Two of my favourite weddings were both under twenty people in size: one backcountry wedding deep in the backcountry behind Skoki Lodge, and another in a wonderful Italian restaurant in Calgary.
Casual weddings, from backyard to backwoods, or anywhere in between, give you an opportunity to personalize your wedding, and not get carried away by complicated agendas.
By having an experienced, casual wedding minister officiate, you guarantee that your wedding will still have enough structure to feel authentic to you, and to your guests.
With everything going smoothly and professionally, you will enjoy that special day!
Adventure Wedding | Backcountry Wedding | Casual Banff Wedding Minister | Casual Calgary Wedding Minister