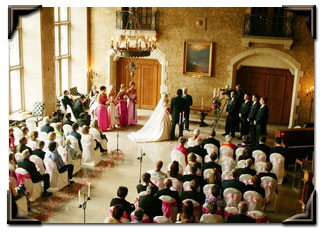 You might be working with a professional wedding planner or perhaps getting much helpful advice from friends and family to plan a very formal wedding in a traditional setting of hotel, church, or country club.
• Having been an Alberta marriage officiant for over 15 years, I am accustomed to fitting in smoothly with wedding planners, musicians, photographers, and everyone else endeavouring to create the very best wedding day for the two of you.
• I have performed as Banff marriage officiant and Calgary marriage officiant at weddings in the finest locations in the area (Banff Springs Hotel, Emerald Lake Lodge, Palliser Hotel, Kananaskis Lodge, Glencoe Golf and Country Club, etc.).
• The wedding ceremony designed in consultation with yourselves will be true to who you are, and will reflect just the right amount of spirituality, formality, and religiosity appropriate to the setting, and to your own tradition.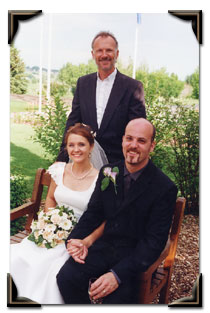 • Out of respect for your sensibilities and your family's traditions, I can wear robes, suit with clergy collar, or suit and tie.
• The ceremony itself can be shortened or lengthened, according to your wishes, and there is much room both for choice of materials, and for participation from family members or friends, as you see fit.
Having officiated at so many weddings, I can bring an expertise and a calm professionalism that will provide you with a marriage ceremony that is as perfectly designed as the rest of your day.
Banff Marriage Officiant | Calgary Marriage Officiant | Alberta Marriage Officiant